Sun was shining bright on Downtown Beloit Farmers Market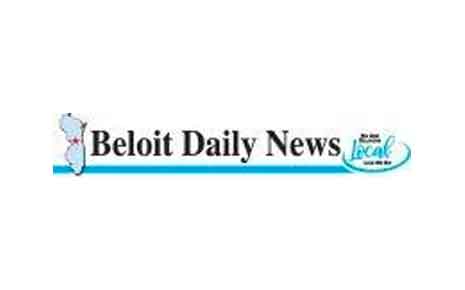 BELOIT—Darlene Schnebbe was bagging plants, salsa and meats for customers as the sun was shining warm and bright on Saturday over the Downtown Beloit Farmers Market.
She and her daughter, Kristy Maasz, who run Sashay Acres out of Evansville, Wisconsin, have come to the Beloit outdoor market for seven years and it is the only farmers market that they currently sell at.
"We used to do the Janesville market, but now we only do Beloit and we take online orders," Schnebbe said.
The Sashay Acres pair were among about 60 vendors who were set up along State Street and East Grand Avenue for the first outdoor farmers market of the season.
The DBA Farmers Market is held each Saturday from 8 a.m.—1 p.m. from May through October.
Vendors were selling a variety of items including jams, eggs, bread, shrimp, jewelry, cheese, flowers and plants.
Ray Owens of Machesney Park and Rafael Victoriano of Beloit were carrying hanging basket flowers down State Street Saturday.
"We wanted to get here for the first market of the year," said Owens, who is a regular customer at the market. "Next week it will be even bigger."
Downtown Beloit Association Executive Director Shawna El Amin agreed the Farmers Market will have more vendors as the season goes on.
"Every week, as plants, fruits and vegetables become available, we will have more vendors," she said. "By June we will be full up."
She said the DBA Farmers Market has the capacity to accommodate 136 vendor stalls.
El Amin said the Beloit outdoor market attracts and average of 7,000 to 10,000 visitors each week, making it the second largest farmers market in Wisconsin. Madison hosts the largest farmers market in Wisconsin.
On Saturday, El Amin was enjoying the big crowd that turned out for the first outdoor market of the season, and the sunny weather, that was surely a contributing factor to the foot traffic downtown. And it didn't hurt that it was Mothers Day weekend and many shoppers were looking for flowers or plants for mom.
"The turnout has been great and everyone is smiling," she said.
Although the cool temperatures this spring may have caused a late start to the growing season, El Amin noted that many of the vendors have greenhouses so they were able to get a jump on the season.
The Farmers Market also welcomed other agencies who weren't selling food or plants. Non-profit agencies such as Justice Overcoming Borders and the Girls Scouts had set up stalls, as well as University of Wisconsin Whitewater—Rock County and Rock Prairie Gardeners.
A few steps away from where El Amin was set up, viewing the busy shoppers, was The Cheese People stall, with vendors displaying their aged cheese and other products.
Jeff Morris said he has been setting up at the Beloit Farmers Market for seven years, but the Cheese People have had a stall at the market for about a dozen years. He said they sell their cheese at other farmers markets, mostly in Illinois, but they really enjoy the Beloit market.
"We love the people and we love the size of this market," he said.
After October, the farmers market will move indoors with vendors selling items each Saturday inside the Downtown Beloit Association offices at 557 E. Grand Ave.